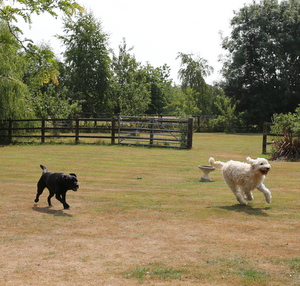 We got the idea for holiday cottages after having trouble booking a break with our  two large dogs… one was OK – two proved to be difficult. Even then the dogs had to be supervised at all times!
So the search started in November 2012 to find a property which we  could develop to provide do friendly holiday accommodation. By total luck we came across Mill House in Saham Hills we and could see the potential straight away.  Not long after we decided to take the plunge and buy Mill House.  We put every penny we had into the venture and we moved in March 2013.
Karen gave up her job in the London to manage the project while Stuart carried on with his day job! Work began by updating and furnishing of The Dairy and Hayloft, while we waited for planning permission on The Barn.  Everything moved very quickly and with the help of some fantastic builders both The Dairy and The Hayloft were completed by the end of June 2013.
At the end of September we started work on The Barn.  For just over 12 weeks our lives became a  TV renovation drama! Like these projects we managed to exceed our budget and run 6 weeks over schedule.  However  we were ready to receive our first guests in time for Christmas!
In spite of working all hours and having many sleepless nights we are now proud of what we have done with Mill House Cottages.  We are thrilled to be able to offer our guests the kind of high quality dog friendly accommodation that we sought ourselves.  We look forward to seeing you – and your dogs – very soon!
Karen and Stuart